Mung beans are small, green beans that belong to the legume family. They are mainly cultivated in East Asia and the Indian subcontinent and are used in both savoury and sweet dishes. Mung beans are high in important vitamins, minerals, and fiber. They are a good source of antioxidants which may help lower 'bad' LDL cholesterol. Mung beans are also high in folate, iron and protein all of which women need more of during pregnancy, but mammas-to-be should avoid raw mung bean sprouts as they may contain harmful bacteria.
I must admit this is my first time cooking with Mung beans. I recently received a packet of them in my weekly fruit & vegetable box and was at a loss at what to do with these little green grams, as they are also known. Browsing through recipes I came across Katie Trant's Mung Bean and Coconut Curry and decided to try it, with a few tweaks of course. I can honestly say this vegan curry is one of the best curries I have ever had. It is really delicious and so easy to make.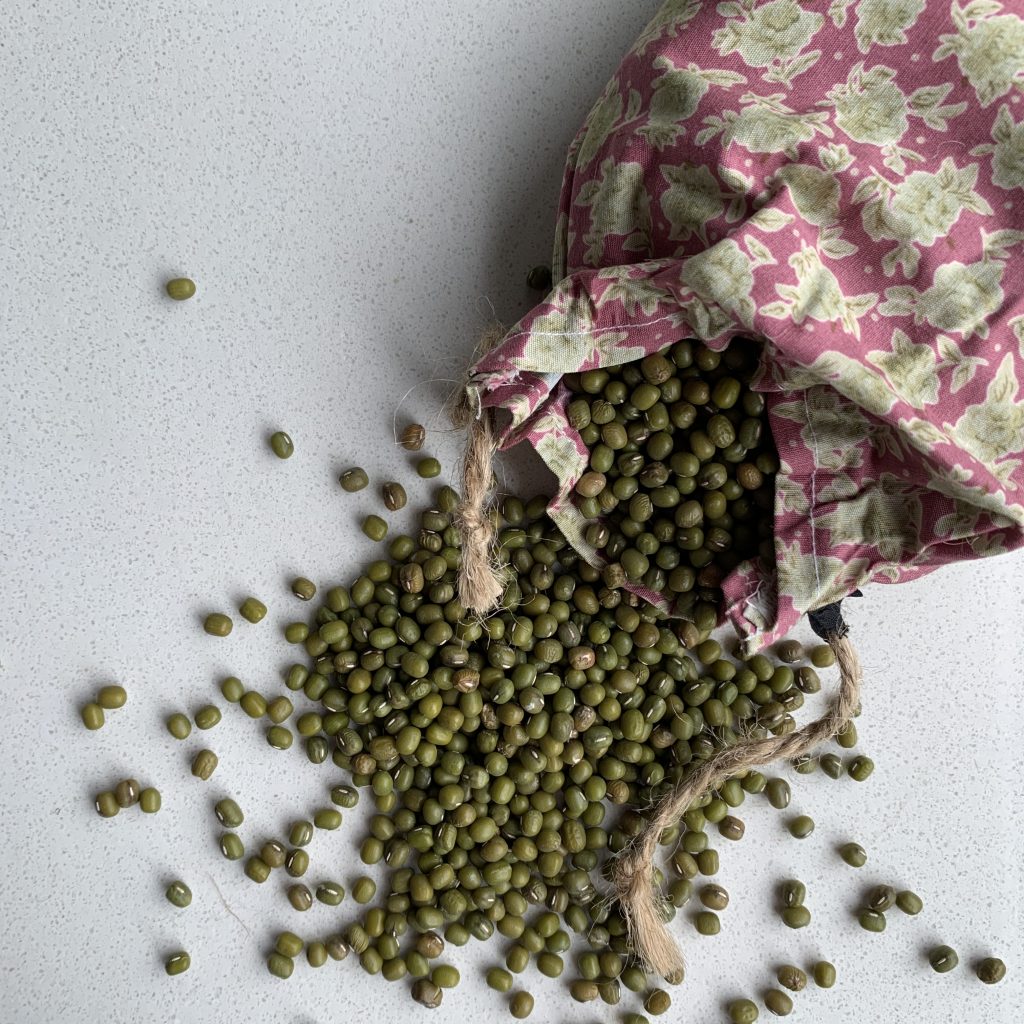 You will need:
4 Tbsp canola or sunflower oil
1 Tbsp whole cumin seeds
5 Cloves of garlic, crushed or chopped very finely
1 Tin of chopped tomatoes
2 Tbsp freshly grated ginger
2 Tbsp ground coriander
1 Tsp Turmeric
1 Tsp sea salt
1 Tsp cayenne pepper (this can be replaced with a pinch of chili flakes or fresh chili)
4 Cups of water
1 Cup of rinsed mung beans (make sure they are clean and free of stones)
1 Tin of coconut milk or cream
½ Cup fresh coriander leaves chopped
1-2 Medium limes
This is how:
Heat the oil in a large pot over a medium to high heat
Fry the cumin seeds until they begin to darken
Add the garlic, and sauté until brown. Be careful not to burn it.
Stir in the chopped tomatoes. Then add the ginger, coriander, turmeric, salt and cayenne/chilli.
Sauté the mixture for a few minutes, stirring often.
Add the water and mung beans to the mixture. Bring the mixture to a boil, then reduce the heat to low, cover the pot and simmer for 30 – 45 minutes, or until the mung beans are soft. Stir the mixture a few times during the cooking process.
Taste a few mung beans to ensure they are cooked. When they are soft, add the coconut milk and increase the heat to bring the mixture to a boil. Once the curry starts to boil, turn off the heat.
Stir in the coriander leaves and the juice of one lime. Taste the curry to decide whether you want to add the other lime's juice.
Serve hot with rice.
Enjoy!
xxx